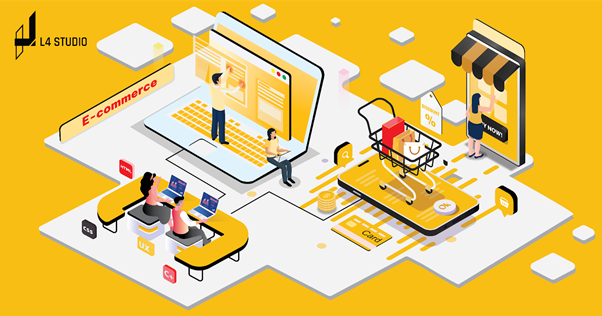 What Is An Retail and eCommerce Software Development Services?
Nowadays, more and more people prefer using e-commerce platforms for online shopping. E-commerce is convenient, fast, safe, and versatile. Therefore, the demand for businesses to make e-commerce websites is rising. However, why do you need to hire a separate developer for your online shopping sites but not use the one for websites, software, information systems, and hardware? So, we will clarify for you by diving deep into the question "What Is Retail and eCommerce Software Development Services?" to understand the importance. 
1. What Is An E-commerce Platform Developer?
An E-commerce platform is an online website that displays information about the business's products. It is the solution for the new era when people-to-people interaction decreases.
Retail and eCommerce Software Development Services can manage their business more effectively. Not only can they promote their products to more people on the Internet, but they also manage the orders, track the traffic to develop better plans.
You need a well-qualified developer to have a well-operated, fast, high-quality e-commerce platform for your business. 
What is an e-commerce platform developer? That is the person who specializes in web programming and designing. They also need to know deeply about the e-commerce market to have the best coding solution to optimize the user experience. 
Here are the main skills that an eCommerce developer should use: CSS, HTML, Node, XML., and JavaScript.
2. Why Does Your Business Need A Platform Developer?
You may question why we need to hire a separate platform developer, not use the web developer of your company? 
The reason is that designers are experts in coding and integrating software, but throughout the working experience, they may get their specialized programming language. Some may work best in Ruby On Rails; some prefer using Django, some write the best codes in Python. 
Most developers know how to program in about 3 to 5 coding languages. It is not a massive matter for them; they can learn independently.
However, the crucial point you should notice is that: the more experienced they are, the faster and more efficient they code. For example, if your site cannot load and has no recorded orders, you need to fix the areas so your customer won't get mad and leave the shop.
If your developer is specialized in the programming language, they will fix it in minutes; but if they are not, it may take hours for them!
3. Main Responsibilities And Roles Of A Web Developer
Here is the list of requirements any e-commerce platform developer should have: 
Know HTML, CSS, JavaScript, PHP, and other relevant web programming languages

Experience in creating and testing websites on desktop and mobile layout 

Troubleshoot website and system-related problems

Have a good aesthetic as the mood you create on the first impression is influential to buying decisions.

Monitor and optimize website traffic 
4. Tips To Hire Ecommerce Platform Developers 
Choose the demanding programming language for your website 

Set up the requirements for the developer. The list must include experience, preferred coding language, and a portfolio of previous projects.

Ask for an interview to see their approach. This step is important because the workflow will be stuck if you and your partner cannot communicate. 

Discuss the pricing directly. In the programming field, the price is unexpected. For some newbies, the quotation is so-so, but some experienced coders ask for much!
There has never been a good time to spend on retail and eCommerce software development services. Online retail is specifically common, and retail e-commerce revenues might develop to around 5.5 trillion US dollars this year. If you need to begin the eCommerce software development corporation in the following year or recruit one to convey e-commerce services, you get to monitor the newest trends. 
5. What is the software development model ideal for an eCommerce website?
The Waterfall development model is the traditional model for the development process and has been enhanced all over time. One of the greatest fluctuations of the better model is Agile development. Both might be beneficial models for your e-commerce business' systems and software development based on their demands. 
6. What is the software development life cycle in eCommerce?
Software development often follows the phases known as the software development life cycle. In other words, development starts with the requirements stage and then keeps going with the design, test plans' development, coding, testing, and implementation. 
7. Top retail and e-commerce software development services this year
E-commerce software developers might want to understand the necessary skills so as to develop this year, and if you hire a custom e-commerce software development corporation, ensure they are popular with those trends. 
7.1 Social media selling
Instagram has inserted shopping and selling into its algorithm, and various social media platforms might follow. Next, you get to make sure that your app comes with a social media component to them – whether you add the social sharing buttons or the whole integration for logging in. 
7.2 AI in e-commerce
AI (Artificial Intelligence) algorithms are a fabulous solution for using clients' browsing and shopping history to enhance their experience and utilize big data to benefit your business. We have witnessed how AI might assist us when we are online shopping through smart product suggestions. The AI might keep going to widen by permitting us to analyze trends and purchaser attitudes. We could early be capable of making a product based on search information and shopping styles. 
7.3 Chatbots
Other online stores are taking chatbots and AI tech to instruct shoppers via the shop. They might make suggestions, share reminders, and answer queries just like an individual sales agent can. In this solution, you might convey the ideal client service, also during the seasonal peaks like Black Friday. 
7.4 Voice sales
Everybody is taking intelligent speakers such as Alexa, or Echo for shopping. Ensure you can take voice search and voice-optimized content during you are constructing the e-commerce app this year. We could hope to witness some skills inserted into Google Assistants, and Amazon Alexa this year so that ensuring you are sustainable and available to adapt. 
Wrapping It Up
Retail and eCommerce software development services keep developing and strengthening over time. After the pandemic, online shopping has taken off, and we might hope for a lot of customization on the current market. Ensure that your developers know the developing e-commerce apps software development requests if you need to succeed.
Final Thoughts
What Are Retail and eCommerce Software Development Services? In short, that is the person who specializes in coding, designing, and developing websites for online shopping purposes. We have discussed the requirements and tips for hiring a developer above. Hope it works for your business!
Sources: Internet    
——————————
L4 STUDIO – LEADING SOFTWARE DEVELOPMENT COMPANY IN VIETNAM
Website: https://l4studio.net/
Email: hi@l4studio.net
Phone: (+84) 28 6675 6685
Our Website Development Services: https://l4studio.net/website-development/
For more interesting blogs: https://l4studio.net/it-knowledge/
Follow us at: https://www.facebook.com/L4Studiovn/
Read more:
WHAT IS WEBSITE DEVELOPMENT OUTSOURCING?