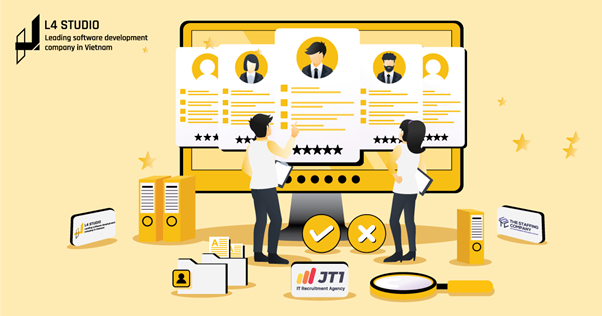 TOP IT RECRUITMENT AGENCY IN VIETNAM
The top IT recruitment agency can check references, screen resumes, shortlist candidates, schedule interviews, and place candidates on the employer's behalf who work on-site. The candidate is an employee of a staffing agency who works for the employer. So, here are all the top famous IT recruitment agencies in Vietnam where you can seek help from.
1. JT1 – A leading IT recruitment agency in Vietnam
JT1 is the top IT recruitment agency focused on a headhunting firm that has been operating in four major markets since 2018: Vietnam, Japan, Singapore, and Malaysia. Within two years, they have demonstrated our ability to work with both top-tier corporations and startups by placing hundreds of IT candidates with our clients across Asia.
JT1 is best known as a professional recruitment agency with enthusiastic consultants and a huge network of thousands of tech talents from junior, senior, and C levels around the world. By quickly providing well-fit candidates, JT1 can ensure the success of your business.
2. Navigos Search
Navigos Search, a branch of Navigos Group Vietnam founded in 2003, owns three leading brands in the Vietnamese recruitment market: VietnamWorks (with over 3.1 million website visits per month), Primus, and Navigos Search.
Navigos' headhunter team has a large network in each industry. Each team is in charge of a specific segment, such as information technology, clothing, manufacturing, or banking.
Furthermore, in order to promote the brand and increase customer trust, the company holds human resources seminars on a regular basis, providing useful and necessary information.
3. TSC – Top Software Engineering Staffing Agency in Vietnam
With the aim of meeting the investor demand, TSC launched as an extra service in order to well serve tech companies worldwide.
They have three main services:
Staffing: Recruiting employees, undertaking other related issues such as salary, social insurance, and benefits for employees according to the provisions of the Labor employment law

Software Outsourcing: Recruiting and managing

IT services

teams to complete short/long term projects

Payroll: Providing professional experts to assist your raw payroll data processed according to the latest regulations in Vietnam
4. Nic Global Sourcing JSC
NIC Global Sourcing JSC was the first tier of human resources solutions in Vietnam, established in 2002, and has over 18 years of experience providing human resources solutions for both domestic and multinational enterprises in Vietnam.
Staffing services, mass recruitment, online recruitment, payroll management, executive search & selection, external manufacturing, hourly labor, and representative office & expatriate legal support services are among the many services offered to customers.
NIC has reaffirmed its position in the human resource outsourcing market, owing to its professional and experienced consulting team, as well as its extensive relationships in the labor and senior executive markets.
L4 Studio, which was founded in 2018, has been providing excellent software development, IT outsourcing solutions, and offshore development services to businesses in Vietnam and South East Asia.
L4 assists businesses with digital transformation, maximizing productivity with technologies, and turning ideas into tangible products.
L4 Studio has those services:
 Creating app compatibility with all operating systems (IOS & Android) 
– Developing user-friendly apps (attractive interface, easy-to-use practice, and high-speed access) 
– Updating latest features and technology (QR payment method, facial recognition technology,…) 
L4 Studio's highest mission as a leading IT recruitment firm in Vietnam is to bring breakthrough and superior solutions to help businesses get closer to modern technology and reach potential customers.
Summary
Recruiting new employees can be a costly and time-consuming process for organizations, especially with foreign companies. So, choosing the right IT recruitment firms which have the right IT services in Vietnam is the first smart move in this market.
Sources: Internet    
——————————
L4 STUDIO – LEADING SOFTWARE DEVELOPMENT COMPANY IN VIETNAM
Website: https://l4studio.net/
Email: hi@l4studio.net
Phone: (+84) 28 6675 6685
For more interesting blogs: https://l4studio.net/it-knowledge/
Follow us at: https://www.facebook.com/L4Studiovn/
Read more: WHAT ARE SOME EXAMPLES OF EDUCATION SOFTWARE DEVELOPMENT COMPANY?