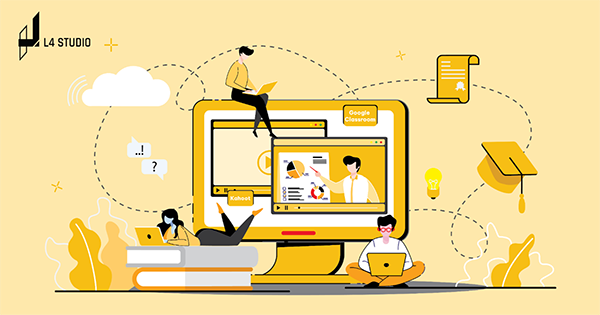 What are some examples of education software development company?
This article will introduce to you educational apps relating to any learning-enhancing computer application. In other words, the post mainly gives you satisfactory answers to the topic – What are some examples of education software development company? Education programs improve efficiency and efficiency in learning. You will; therefore, consider the program vital as a teacher, school manager, or parent.
1. What Is Educational Software? 
An education software development company built these applications for the major objective of educating and self-learning. 
Educational and training hardware first appeared in the early 40s. American scientists designed flight simulators using analog computers to create simulated onboard device data.
Education application is currently an indispensable component for a school because it can carry out all assignments. The program also gives parents access to their children's progress in classrooms.
2. What Are The Advantages Of Software For Education? 
With software for school, all essential materials can be stored and structured in a safe location. This makes it easy to construct various courses, too.
Another role of digital education programs is to track and report the progress of learners. It offers more tailored content depending on a specific student's experience and performance.
The software can automate numerous secondary tasks and support teachers to concentrate on their core activities. Specific instruments, for example, allow student information access, give test ratings, and monitor homework.
As in the education field, cutting-edge technology is now really popular. Mobile educational apps are indeed an ideal option developed to meet the demands as well as interests of various kinds of students. 
3. What Are Some Examples Of Educational Software In A Classroom? 
In this section, we will list some most interesting and user-friendly educational software.
3.1 Google Classroom
Google Classroom is a strong social platform for learning focused on the community. It enables students to pose questions to their lecturers or classmates and obtain replies.
In addition, teachers may post fascinating questions and educational material. It can also combine with some other Google apps like Google Forms, which could provide students with valuable feedback.
3.2 Edmodo
Edmodo is a teacher and student instructional tool and is integrated into a social media network. Teachers can set up collaborative online groups, manage and supply instructional resources, measure the performance of students, and connect with parents.
3.3 Class Dojo
Class Dojo can be a complimentary communication method for the classroom to boost communal behavior. Class Dojo allows teachers to communicate with parents and set assignments for students. It's an ideal tool to cultivate positive conduct and qualities.
3.4 Socrative
Socratic is "the class program for entertaining and efficient teaching." In other words, this students' responses system is indeed a cloud-based one, so teachers can immediately assess their understanding of students by using mini-quizzes on tablets or laptops.
3.5 Kahoot!
Kahoot! is a game and questions-based teaching platform. Kahoot! supports game-based training that enhances student engagement as well as produces an educational environment that is dynamic, friendly, and fun.
Conclusion 
With plentiful educational programs in the world today, there is an immense opportunity for the development of this particular application in the future.
Hopefully, our content has become a helpful reference in choosing reliable and efficient school tools, and thoroughly answered your query – what are some examples of educational software?
Sources: Internet    
——————————
L4 STUDIO – LEADING SOFTWARE DEVELOPMENT COMPANY IN VIETNAM
Website: https://l4studio.net/
Email: hi@l4studio.net
Phone: (+84) 28 6675 6685
For more interesting blogs: https://l4studio.net/it-knowledge/
Follow us at: https://www.facebook.com/L4Studiovn/
Read more: WHAT IS ODC? DOES IT DIFFER FROM OFFSHORE DEVELOPMENT SERVICES IN HO CHI MINH CITY?