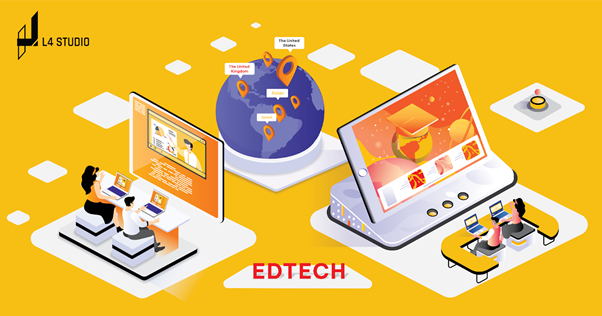 Software development services for education industry and how countries are using it?
EdTech, a combination of "education technology," is the integration of information technology tools and educational methods aimed at promoting and improving learning. In this article, our software development services for the education industry will explain EdTech clearly and which countries are getting used to it the most.
1. What is EdTech?
EdTech is the process of bringing IT tools into the classroom to make learning more engaging, inclusive, and personalized.
Tablets, interactive online courses, and even robots that can take notes and record lectures for students who are ill are now commonplace in today's classrooms, which have evolved from the cumbersome desktop PCs of the past.
The ability to scale personalized learning has been a major factor in EdTech's rise to prominence. It's not a one-size-fits-all situation when it comes to how we study, connect with classmates and professors, and our overall excitement for the same subjects. Everyone learns at his or her speed and in their manner. EdTech technologies make it easier for teachers to design tailored lesson plans and learning experiences that promote inclusion and improve the learning capacities of all students, regardless of age or ability.
2. Which country is leading the EdTech movement?
2.1 The United Kingdom
EdTech offers enormous growth potential in wealthy countries like the United Kingdom.
According to EdTech UK, the UK now has over 1000 EdTech companies (software development services for the education industry count as a company), with at least 200 of them situated in London. The UK also has a strong education sector and Europe's largest IT cluster, showing that the EdTech business still has a lot of room for expansion.
2.2 The United States
Many people believe that the United States is currently the EdTech leader. The Software and Information Industry Association (SIIA) estimates that the EdTech sector in the United States is worth more than $8.38 billion. In 2015, the United States received 60% of the money invested in educational technology.
The success of EdTech in the United States is due to the country's vast population, large economy, and tech and innovation hubs like Silicon Valley. The United States has led the way in EdTech development and implementation, championing active rather than passive users of technology in the classroom.
2.3 Israel
When it comes to the EdTech market, Israel is also deserving of mention. Although it is a little country, it has a thriving technology economy with many software development services for the education industry here.
The "EdTech Israel Summit" is held in Israel, and the country has the potential to be a leader in the growing worldwide EdTech market.
2.4 Latin America
Since 2013, the e-learning market in Latin America has risen at a rate of over 14% per year, and this trend is expected to continue.
Investors are taking note of EdTech, just as they are in Asia, and are pouring money to support it. In addition, the region has implemented several educational initiatives that promote digitalization.
Latin America is now the world's fourth-largest EdTech market in terms of revenue, behind North America, Western Europe, and Asia.
2.5 Asia
Despite the fact that the United States is currently leading the EdTech movement. Asia has become the world's fastest expanding e-learning market.
Global investments in Chinese EdTech startups grew to $1.2 billion in 2016, according to Goldman Sachs. China's EdTech industry is predicted to grow at a rate of 20% per year in the future.
Meanwhile, the online education industry in India is expected to triple in the next four years, reaching more than $1.96 billion.
According to projections, the Asia-Pacific region will account for 54 percent of the worldwide EdTech market by 2020.
Conclusion
Covid-19 pandemics create huge potential for working and learning online, Edtech has now become a new trend around the globe. To not get lost behind by your competitor, our software development services for education industry teams are always here to help you.
Sources: Internet    
——————————
L4 STUDIO – LEADING SOFTWARE DEVELOPMENT COMPANY IN VIETNAM
Website: https://l4studio.net/
Email: hi@l4studio.net
Phone: (+84) 28 6675 6685
Our Mobile App Development Services: https://l4studio.net/mobile-app-development/
For more interesting blogs: https://l4studio.net/it-knowledge/
Follow us at: https://www.facebook.com/L4Studiovn/
Read more: WHAT IS AN RETAIL AND E-COMMERCE SOFTWARE DEVELOPMENT SERVICES?