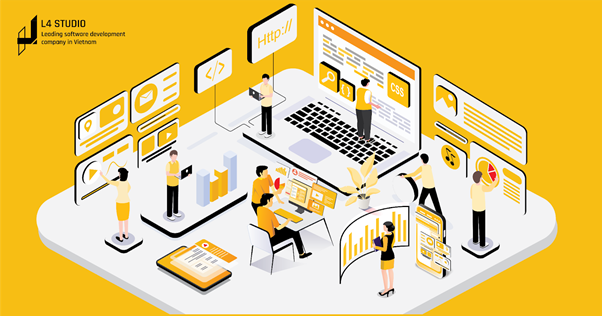 How does a software development agency work?
Software nowadays is at the core of how almost every business operates. Software is something that practically every company requires to function. As a result, many businesses turn to custom solutions to help them streamline processes and improve day-to-day operations. So how does a software development agency work?
1. Definition of a software development agency
Software development agency that specializes in software development creates, manages, and supports applications, frameworks, and other software components for businesses and consumers.
Let's start with a definition of software development to gain a better idea of what this process entails. Software development is the process of generating and maintaining applications, frameworks, and other software components through conceiving, specifying, designing, programming, documenting, testing, and bug resolving.
All of these parts are put together by a software development business. This comprises everything from the design of the software to its final manifestation research, new development, prototyping, modification, and so on.
For working with clients, each software development agency will have its engagement model and process. However, before beginning a project with a software development firm, it's critical to know what they do.
2. What does a software development agency do?
2.1 They have the skills to identify customer need
First and foremost, a software development company will strive to comprehend the significance of the software they will produce. What makes it so significant? What are the features that must be included? What effect will this software have on users?
2.2 They develop a quality program
A software product is a program (or a collection of programs) that does something that potential customers might find useful. A software company frequently creates several products that perform complementary functions. They're known as 'companion products,' and they work together to form a suite.
2.3 Suggest the effectiveness for every occurred problem
Although the processes and techniques may differ, most software development agencies strive to provide solutions for their customers. These solutions can range from full-fledged software for the general public to custom-made software tailored to the specific needs of businesses and industries.
2.4 Develop apps, create websites and build corporate systems
A good software development agency can create websites and even apps for various operating systems.
Not only that, they can create corporate web-based systems to assist businesses in automating processes, increasing productivity, and facilitating workflow management.
2.5 They can provide insight that can enhance your product
Many software agencies provide clients with advice on software packages that aid in business development and customer relationship management. Even better, our software development agency goes above and beyond. We investigate methods to boost your company's performance by optimizing your business-to-business and end-user analysis.
2.6 Testing carefully
A common set of actions is carried out as the software development project progresses through each step and into the testing phase. For example, software features are laid out in the document and tested to ensure they work properly, and scripts are written for tasks that users may perform. Testing can vary greatly depending on the organization's testing procedures. This step may include several sub-stages such as staging, quality assurance, and so on.
Conclusion
With our extensive experience in the IT industry, we encourage our clients to expand their businesses and bring their dreams to fruition. Software development agencies like us exist to solve problems and improve people's lives, and this is our number one priority.
L4 STUDIO – LEADING SOFTWARE DEVELOPMENT COMPANY IN VIETNAM
Website: https://l4studio.net/
Email: hi@l4studio.net
Phone: (+84) 28 6675 6685
For more interesting blogs: https://l4studio.net/it-knowledge/
Follow us at: https://www.facebook.com/L4Studiovn/
Read more: WHY IS INNOVATION HEALTH APPS IMPORTANT IN HEALTHCARE?