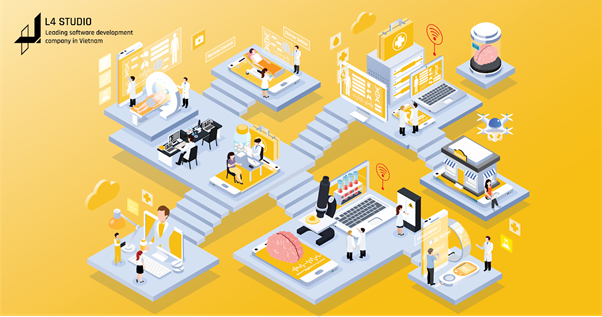 Why is innovation health apps important in healthcare?
The healthcare business is in desperate need of new ideas and innovative health apps. Costs are growing and outcomes are inconsistent for health insurance, providers, life sciences businesses, and the government. They're aiming to enhance health care and results while lowering expenses and spending. So which innovation health apps are important in healthcare?
1. Artificial intelligence (AI) integrated into healthcare services
Artificial intelligence (AI) has enormous potential to revolutionize healthcare dynamics, but it is also one of the least understood technologies, due to myths, promises, and legitimate worries. Regardless, AI is a fast-growing technological area, with Accenture predicting that it would reach $6.6 billion this year and that important clinical health AI applications could save the US healthcare economy $150 billion annually by 2026.
Here are how stakeholders in healthcare are benefiting from the usage of AI in innovation health apps:
Clinical trial teams of clinicians, researchers, or data managers can speed up the process of medical coding search and confirmation, which is critical for conducting and ending clinical trials.

Healthcare payers can tailor their health plans by connecting members interested in bespoke health solutions with a virtual agent using conversational AI.

Clinicians can improve and personalize patient treatment by analyzing medical data to detect or diagnose diseases more quickly.
2. Ability to analyze your competitor
Marketers can also analyze referral data to see which rivals in a given location obtain the most referrals based on specialization, city/state, treatments performed, and other factors to see which organizations might be the greatest partners based on referral volume. Another alternative is to research your physicians to determine if they are referring patients to competitors.
3. Internet of medical things (IoMT)
The internet of medical things, also known as healthcare IoT, is a network of medical devices and software applications that can interface with different healthcare IT systems.
As an example, consider someone who wears a FitBit to track their steps, that step count is tabulated on an iPhone via Bluetooth technology, and that data can then be shared with a physician for feedback via wi-fi connection and automated reporting data, as well as sent to your closest friends and family.
The advantages of adopting IoMT are numerous, and there are undoubtedly more to come as we continue to develop our industry's expertise in this area. To name a few, there are:
Objective reporting: We no longer have to rely on subjective patient descriptions of "how they are feeling" because the devices can record and report on actual activity at the level of the nervous system
Remote monitoring: Increased patient responsibility because instead of depending on the accuracy of patient summaries, the healthcare professional will have a "report card" of actual patient therapeutic compliance.
Local activity recording: Data that we've never been able to obtain before is now possible thanks to device recording capabilities. This information will substantially increase our understanding of how these chronic diseases work. And, if we gain a better understanding of the condition, we will improve our approach to disease prevention and treatment.
Automation: Within hospitals and sub-acute care institutions, the automation of device and therapy records reduces human mistakes and false reporting.
Adaptability: Because the innovation health app is based on a feedback loop, they iterate and modify based on the feedback to enhance patient outcomes.
4. 5G mobile technology
Fast communication and healthcare aren't normally associated, but as wireless technology improves, we're seeing how the Internet of Medical Things (IoMT) will significantly enhance patient lives.
If can't come to the doctor, don't worry, your doctor may come to you soon. At least, that's how it appears. 
5G is predicted to usher in a new era of considerably increased eMBB data speeds and hyper-connectivity, allowing clinicians to simultaneously study and analyze multiple patient medical data streams and give individualized treatment to patients.
Conclusion
Innovation health apps help enhance the reputation of hospital organizations, distinguishing them from their competitors. Not only that, with the advance in technology, hospital and organization have more potential to improve patient care, and efficiency and can save more lives.
Sources: Internet    
——————————
L4 STUDIO – LEADING SOFTWARE DEVELOPMENT COMPANY IN VIETNAM
Website: https://l4studio.net/
Email: hi@l4studio.net
Phone: (+84) 28 6675 6685
Our Mobile App Development Services: https://l4studio.net/mobile-app-development/
Our Healthcare software development services: https://l4studio.net/healthcare-software-development-services/
For more interesting blogs: https://l4studio.net/it-knowledge/
Follow us at: https://www.facebook.com/L4Studiovn/
Read more: WHAT DOES AN APP DEVELOPER DO IN APP DEVELOPMENT SERVICE?