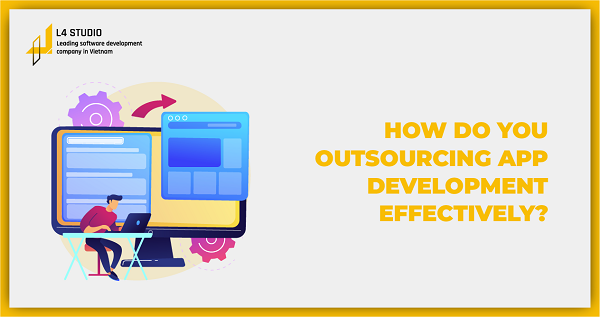 How do you outsourcing app development effectively?
For small businesses or startups, outsourcing app development can be the key to growth, especially when you don't have the option or ability to bring on a full-time employee. But it can also be a stressful process for small business owners. So, what are the keys to helping outsource app development more effectively?
1. Know your requirement
Before you start outsourcing app development, you should know exactly what you want from your app.
Knowing what you want can help you communicate your requirements to your developer more clearly.
If you don't know, you're more likely to get a product that doesn't meet your expectations or performs poorly. Furthermore, the more revisions you require, the more time and money you waste.
2. Look for their relevant experience
What factors do you consider when hiring a developer or outsourcing app development? The obvious answer is their experience and portfolio. However, simply looking at general experience is insufficient. If you want to end up with a great product, you should look for an experience that is relevant to your app development project.
Has the developer previously created apps similar to yours?
If a developer does not have experience working in the same industry as you, ask if they have designed similar solutions in other markets.
3. Have a good communication
Never underestimate the value of communication, especially when it comes to app development outsourcing. Excellent communication skills and responsiveness should be at the top of your list when looking for the right developer to hire.
You can easily keep the development process running smoothly by making sure that both you and your developer are not afraid to ask questions, clear up any confusion, and respond to each other promptly.
You and your outsourcing app development team may not always be on the same page if you don't communicate frequently. This could result in more errors, revisions, costs, and conflicts.
It is also critical to clearly define the channels through which you will communicate with your developer.
Another issue that clients and developers frequently encounter is a lack of proactive communication. Don't just sit there and wait for the other person to ask you questions. Anticipate potential points of confusion and try to address them before they ask.
This will save you the time you'd otherwise spend waiting for a predictable question to pop up and then answering it so the other party can get to work.
4. Set a clear expectation
You must set clear expectations, especially when it comes to outsourcing app development so that you both know what you're doing, why you're doing it, and when you're doing it.
Uncertain expectations can lead to unpleasant surprises in the middle of your project, such as disagreements over payment terms, requirements, and revisions, among other things. This will only waste your time and money.
Before you begin, make sure you have agreed on the payment terms, deliverables, and time frame for the project.
5. Don't hesitate to ask a question
This is especially important in managing outsourcing app development relationships, where communication may be more difficult.
Ask the developer anything that makes you feel at ease enough to work with them. Inquire about their experience, whether you can view their portfolio or testimonials from previous clients, and even about their work process.
Remember that you want to hire someone communicative and responsive. It's a red flag if a developer you're interviewing doesn't properly answer your questions.
Summary
Hopefully, with our experience about how to outsource app development more effectively, you are now more confident and ready to take advantage of outsourcing services.
Sources: Internet    
——————————
L4 STUDIO – LEADING SOFTWARE DEVELOPMENT COMPANY IN VIETNAM
Website: https://l4studio.net/
Email: hi@l4studio.net
Phone: (+84) 28 6675 6685
For more interesting blogs: https://l4studio.net/it-knowledge/
Follow us at: https://www.facebook.com/L4Studiovn/
Read more: WHAT ARE SOLUTIONS FOR ISV SOFTWARE DEVELOPMENT IN HO CHI MINH CITY?