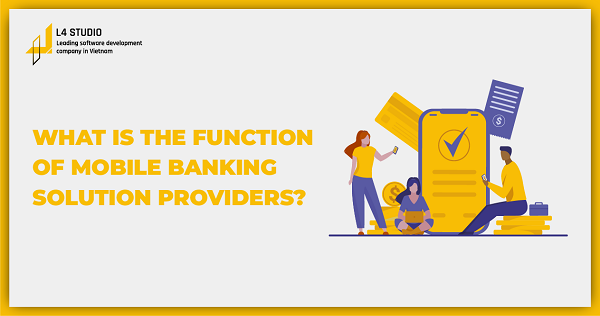 What is the function of mobile banking solution providers?
Mobile banking has become an integral part of our daily routine. It offers the convenience and flexibility of managing our finances anytime and anywhere. As per the World Economic Forum, mobile banking can help in promoting financial inclusion by providing access to financial services to those who didn't have access to traditional banking services before. Therefore, this article helps you understand how to use mobile banking and the role of mobile banking solution providers. Follow us to learn more about the benefits of mobile banking and how it can help manage your finances efficiently. Now, let's find it more with us.
A brief introduction to mobile banking solutions providers
1. INTRODUCTION TO SOME MOBILE BANKING SOLUTION PROVIDERS
Mobile banking has become an increasingly popular way for people to manage their finances in recent years. As a result, there are now many mobile banking solution providers available to choose from. Each of them offers a range of features and services to help users manage their money on the go.
One of the most well-known mobile banking solution providers is PayPal. It offers a range of services including mobile payments, money transfers, and a mobile wallet that can be used to store payment information securely. PayPal also offers many security features, including two-factor authentication and fraud protection, to help ensure users' financial data is secured at all times.
Venmo is a popular mobile banking solution provider offering features such as mobile payments, bill splitting, and expense sharing among friends and family. Additionally, Venmo has a social feed feature that enables users to see and interact with their friends' transactions. This feature has made Venmo a preferred choice for social payments.
Square Cash is another provider that offers a range of features including mobile payments, and a virtual debit card. It can send and receive money using just a phone number or email address. It provides various integrations with other widely used apps and services helping users handle their finances effortlessly on various platforms. These integrations include invoicing, e-commerce, and accounting solutions, allowing users to manage their money without switching between different apps. This feature makes Square Cash a popular choice among small business owners and freelancers.
In addition to these well-known mobile banking solution providers, many other options are available, each offering unique features and services. There are mobile banking providers that specialize in specific areas such as international money transfers or budgeting and savings tools. On the other hand, there are providers that offer more general mobile banking services.
2. TYPES OF MOBILE BANKING SOLUTION PROVIDERS
Mobile banking brings us one step closer to a fully digitalized environment. It reduces paperwork and waits time that would otherwise be wasted in long lines. Banks offer mobile banking services to their customers in the following ways:
– Mobile banking through SMS. (also known as SMS banking) 
– Mobile banking through USSD (Unstructured supplementary service data)
– Mobile banking through mobile apps (i-Mobile)
KEY FUNCTIONS OF MOBILE BANKING SOLUTION PROVIDERS 
Mobile banking apps offer features such as spending alerts, automatic savings transfers, and card spending controls. Banking apps simplify sending money to friends and accessing customer service with just one click.
1. PROVIDING CLARITY OF WHERE YOUR FINANCIAL DATA IS MOVING
Mobile banking apps often come equipped with features that help users monitor their account activity and provide real-time notifications of any transactions made. These features allow users to stay informed of all transactions and track where their financial data is transferred. Transparency assures users' funds are handled properly and no fraud is happening.
Mobile banking solution providers offer transaction monitoring to users. Users also get access to their account statements. This enhances clarity on where their financial data is being moved. Users can easily review their account activity, including deposits, withdrawals, and transfers, and see exactly where their money is going.
2. OFFERING ADDED CONTROLS
Consider the mobile banking app like the remote control for your bucks. It makes you deposit a test and send somebody bucks whenever you need it. Next, those controls are getting advanced. Other bank applications make you kick on the new credit.
Mobile banking solution providers also offer identity protection services that allow users to monitor and respond to data breaches. Banks can enhance mobile banking users' ability to manage security threats by integrating these services into their digital banking platform. If somebody attempts to use their card, which is not activated, the bank might decline it for years. 
In addition, mobile banking provides a level of transparency that can help users stay informed about where their financial data is moving. Mobile banking platforms can address users' concerns by providing transparency on data usage and protection. This can increase user trust and adoption. This increased transparency can help build trust between users and mobile banking providers. Moreover, mobile banking platforms can provide users with control over their personal data through privacy settings and data management tools.
Overall, mobile banking provides users with added controls and transparency to help them manage their finances more effectively and securely. The adoption of mobile banking is growing among different generations. People are comfortable interacting with their finances on their smartphones.
3. ENHANCING SECURITY
Mobile banking has transformed financial interactions with ease and convenience for global users. However, it also raises security concerns with identity theft, fraud, and hacking risks. To address these risks, mobile banking platforms offer advanced security measures. As a result, mobile banking solution providers have implemented various measures to enhance the security of their systems.
Multi-factor authentication is a common security measure used by mobile banking platforms. It requires users to provide multiple forms of identification, such as a password and a fingerprint, to access their accounts. This helps ensure that only authorized individuals can access sensitive financial information. Moreover, this helps to prevent unauthorized access and makes it more difficult for hackers to gain access to sensitive information. Mobile banking solution providers use encryption technology to protect user data, making it inaccessible to unauthorized parties. This ensures that user data is secure and cannot be intercepted, thereby enhancing user privacy and security.
Transaction monitoring is a common security measure in mobile banking platforms. It involves monitoring user activity for suspicious behavior such as large transfers of funds or sudden location changes. This helps detect and prevent fraudulent activities in real time. This also allows providers to identify and prevent fraudulent activity before it can cause harm to users.
Mobile banking solution providers can offer security alerts and notifications, which inform users of any suspicious activity or changes to their accounts. These notifications help users take immediate action to prevent fraud or unauthorized access. This feature enhances the security of mobile banking by enabling quick responses to potential threats.
Mobile banking providers prioritize security by implementing measures to protect users. Staying informed about mobile banking security best practices helps users enjoy safe and convenient banking. With proper security measures, users can safely access mobile banking benefits.
4. OPTIMIZING YOUR BUCKS
Mobile banking revolutionized the traditional banking system by offering customers the freedom to manage their finances from anywhere and anytime. It has provided a level of convenience and flexibility that was not possible before. One of the key advantages of mobile banking is the ability to optimize finances and save money in various ways.
Mobile banking apps can provide real-time notifications for transactions, account balances, and other important financial information. These notifications can help users keep track of their spending and monitor account activity for unauthorized transactions. They can also avoid overdraft fees by alerting them when their account balance is low. By staying aware of their spending habits, users can adjust their budgets and save money in the long run.
Mobile banking apps often come equipped with features like budget tracking and spending analysis. Additionally, these apps can help users establish personalized savings goals to make informed decisions about their finances. By setting savings goals and tracking their progress through the app, users can stay motivated and achieve their financial goals more easily.
Many mobile banking apps offer cashback rewards or loyalty points for using certain services or making purchases with linked cards. These rewards can be redeemed for discounts or other perks, providing users with additional savings.
Mobile banking can help users optimize their finances by offering competitive interest rates and fees for banking products such as savings accounts and credit cards. This allows users to save money and get more value out of their financial products.. Users can easily compare different options through the app and choose the best product that suits their needs.
Final thoughts
Thank you! That's all about mobile banking and the primary functions of mobile banking solution providers in Ho Chi Minh that you need to know in the future. Do not hesitate to reply to us if you have any queries
Sources: Internet    
——————————
L4 STUDIO – LEADING SOFTWARE DEVELOPMENT COMPANY IN VIETNAM
Website: https://l4studio.net/
Email: hi@l4studio.net
Phone: (+84) 28 6675 6685
Our Mobile App Development Services: https://l4studio.net/mobile-app-development/
For more interesting blogs: https://l4studio.net/it-knowledge/
Follow us at: https://www.facebook.com/L4Studiovn/
Read more: Which software is used in media software outsourcing in Ho Chi Minh city