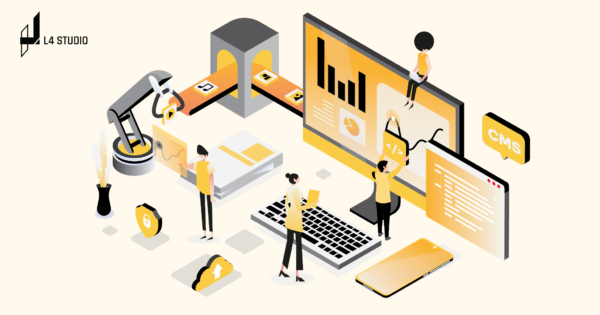 What Are The Various Website Development Services
In recent years, many companies have started realizing the importance of websites in branding their business on the Internet. Thus, the demand for website development services rose. What are the various web development services? In this post, let's learn more about the topic and figure out which is the best for your company! 
1. What Is Website Development? 
In short, website development is the procedure of programming, designing, and developing a website for the Internet or intranet. According to the purpose of usage, website development involves different steps. 
Website development can range from coding a simple, static page of single, plain text and no animation; to multiple, complex, integrated web pages with multimedia devices. 
Therefore, when mentioning web development, people usually include many related tasks, such as web programming, web design, content management system engineering, web server maintenance, e-commerce development, client liaison, network security configuration, and mobile optimization.
2. Why Should You Hire A Specialist Development Team?
Even though most software engineers understand coding theory and know how to program in various languages, they are not experts in all fields. 
Some people are good at network security; some work best in e-commerce platform development; some are experts in content management system engineering. 
Just imagine, if your site has a problem, the expert will fix it in a few minutes while the amateurs spend hours – how many customers will say goodbye to your website?
That's why you should hire a team of web developing experts. They can provide in-depth consultation on how to develop and optimize your sites, from scratch to final. 
They will also help you fulfill all the web application development, cybersecurity, maintenance, testing, UI/UX design, and troubleshooting errors. 
3. What Are The Various Website Development Services?
3.1 Full-Stack Website Development Services
When seeking website development services on the market, most will find a full-stack website development services agency. People prefer it more than the back-end and front-end because of the holistic approach. 
Full-stack developers will work in both back-end and front-end steps and use their experience to consult for the best optimization for your website. This approach is super effective for projects requiring end-to-end or full-cycle management. 
Some popular "stacks" (a.k.a. technologies) are MongoDB, Express, AngularJS, Django, Python, Linux, Apache, MySQL, and PHP.
3.2 Ecommerce Applications
More businesses go online to boost sales these days. Thus, the need for e-commerce web development is rising. 
For e-commerce development projects, coders will not only apply the web developing skills and knowledge but also acknowledge the e-commerce market. 
Hence, apart from the typical eight steps of developing a website, the team has to update new features, site optimization, integrating cloud services for online payment, and developing ERP systems.
3.3 Custom Website Applications
If you are surfing a website, let me ask you: Can you guess how many percent of users are reading this site on the desktop and how many on the mobile? 
Typically, most people will get the wrong answer because they can't imagine how big the mobile market is. The ratio is about 6/4, or 7/3, with the major going to mobile. That is why most businesses need to invest in mobile applications or mobile displays of their websites. 
So, when a client develops a website, they will also request to develop the mobile applications or mobile display of the website. The expert UI/UX developers will provide consultants to bring the best experience to clients.
3.4 Content Management Systems
A content management system (CMS) helps you manage the content easily and organized. Based on our experience, developing CMS is one of the most requested services at web development agencies.
The more your business expands, the higher you demand on the management system. Sometimes, you need the system to have optimized features that no CMS tool can have. That is the reason why many big businesses want to develop their own CMS system. 
Besides designing new features to the system, web development agencies also reduce maintenance costs, increase platform speed, migrate hosting services, upgrade technologies, and support new elements.
3.5 QA & Testing
After programming the site, the developers also supply the QA and testing service. This step guarantees the adequate functionality of the software and the CMS.
3.6 Web Support and Maintenance
The job of a web developer doesn't stop after delivering the final product to their client. After the site goes live, there is a high chance it will get into errors. 
That is when the developers need to find the errors and fix the problems, then test the site again to ensure it goes smoothly. For some projects, the development agencies also monitor the infrastructure 24/7.
4. Bottom Line 
Until these last words, you have undoubtedly reached useful information about the topic – what are the various website development services? 
There are six common services, and we have dived deep into each of them through this post. If you find this post useful, don't hesitate to forward it to someone having the same issue!
Sources: Internet    
——————————
L4 STUDIO – LEADING SOFTWARE DEVELOPMENT COMPANY IN VIETNAM
Website: https://l4studio.net/
Email: hi@l4studio.net
Phone: (+84) 28 6675 6685
For more interesting blogs: https://l4studio.net/it-knowledge/
Follow us at: https://www.facebook.com/L4Studiovn/
Read more: TOP 5 TIPS TO HIRE WORDPRESS WEBSITE DEVELOPMENT SERVICES