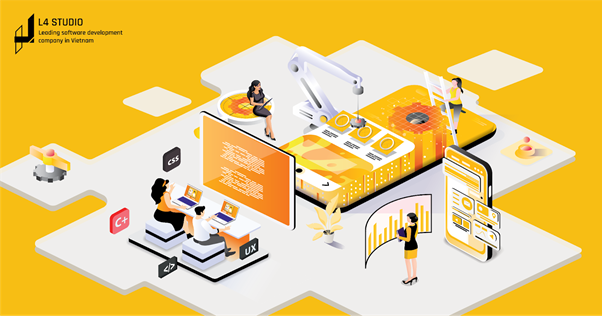 Should you do use mobile development outsourcing services?
Mobile apps increase the efficiency of your business and provide you with a competitive advantage. Attempting to develop an app in-house, on the other hand, may result in serious issues. So, choosing to use mobile development outsourcing may be the best solution for your business, but why?
Which benefits will you have by using mobile development outsourcing?
1. It is a cost-effective solution
If you decide to build an app in-house, you'll need to recruit app developers with prior experience. It takes time, effort, and money to hire and manage a staff of mobile app developers. It also means you'll have long-term overheads, and your app will require more than just app developers to succeed. To create a unique app, app developers, quality assurance specialists, user experience and user interface designers, and project managers collaborate.
On the other hand, outsourcing your mobile app development can save you a lot of money in the long run. It will not only lower your overhead costs but will also help you save money on infrastructure and resources.
Data show that outsourcing mobile app development can help you save up to 75% on expenses. Outsourcing is already used by 59% of organizations around the globe due to its cost-cutting benefits.
2. Efficiently
A mobile development outsourcing business in Asia that specializes in iOS and Android offers everything you need to create a smooth, high-end app.
They have everything they need to create outstanding quality work, from a devoted staff of developers to cutting-edge equipment.
If that isn't enough, they also offer manual and automatic app evaluations to ensure that the app's quality is maintained. As a result, when you employ an outsourcing company, make sure you obtain the greatest mobile app possible.
3. Reliable security
Apart from designing a mobile app, it is also necessary to protect it. These apps, especially commercial apps, are prone to hacking, which could result in the loss of important data and information. This is where a mobile development outsourcing company may help.
They not only have a strong security system in place, but their legal papers and non-disclosure agreements are also up to par. 
4. They are all experienced developer
When you outsource your app development project to a reputable company, you're giving your project to a skilled team of mobile app developers. These programmers will have the necessary technical skills, professional experience, and previous project delivery experience to complete your project.
Many of these app development firms specialize solely in mobile app development. They'll take care of everything from start to finish. This eliminates the stress of your staff having to learn new skills in the field of mobile app development.
Mobile development outsourcing is always working on new projects and keeping up with the latest technologies and breakthroughs in their area. When it comes to offering solutions for your app development project, they are well-informed.
No task is too difficult for an expert app development business.
5. Level Up your app design
The essence of mobile app development is user experience and user interface design. They give your app a goal and make it run more smoothly.
User experience design is a collection of tasks aimed at making the user experience more fun and effective. If user experience design is done correctly, the user will have a favorable experience and a better relationship with your software.
User interface design is the look and feel of an app that links users to the product's underlying technology. It aids in the development of favorable brand recognition.
Both of these factors can make or break your app's user experience. If your team lacks knowledge in these areas and how they relate to mobile app development, it's a good idea to leave them to a mobile development outsourcing that does.
6. Ongoing services
At each level of the app development process, there are numerous aspects to consider. Each stage is risky for a corporation that hasn't gone through it before. Mobile app development businesses offer an end-to-end service, which means they assume all of the risks. End-to-end service encompasses everything from the conception of your app to the finished result, as well as all technical support you'll need to ensure its long-term success.
Experienced mobile development outsourcing firms are familiar with the obstacles and risks that may obstruct your entry into the mobile market. They reduce risk by providing end-to-end service and having years of knowledge.
Summary
Outsourcing mobile app development can help cut down your costs and help you concentrate more on your main goals. To help your business have the desired edge over competitors, you can ask for help from our mobile development outsourcing team.