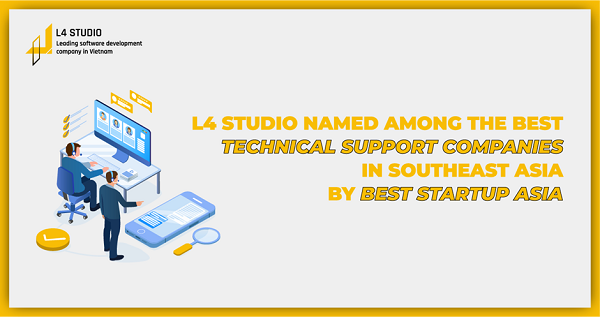 L4 STUDIO NAMED AMONG THE BEST TECHNICAL SUPPORT COMPANIES IN SOUTHEAST ASIA BY BEST STARTUP ASIA
We are thrilled to announce we have been featured in the Best Startup Asia Magazine as one of the best technical support companies and startups in Southeast Asia.
"Established in 2018, L4 Studio has been providing excellent software development and outsourcing solutions for businesses in the region", according to Best Startup.
Owning profound knowledge and experience in Mobile apps and Website development business, L4 Studio is designed to develop and maintain projects that fit our clients' requirements, from tailored business management systems to fast-grown mobile apps and further. 
As a leading IT outsourcing service in Vietnam, L4 Studio's highest mission is to bring breakthrough and superior solutions to support businesses in getting closer to modern technology and reaching potential customers. Our digital transformation services will bring your ideas to reality and turn them into opportunities for your future.
"L4 Studio aims to become a Leading Software Outsourcing company in Vietnam and the region in the next coming years."
About the Best Startup Asia Award
Annually, Best Startup Asia awards the most successful startups in Asia, with its lists featuring companies who are pushing the limits of innovation to solve critical problems and challenges. Best Startup Asia aims to accelerate the growth of the foremost Asian-based companies, businesses, and innovations by promoting them to a global audience. This year, L4 Studio makes this list for its exploits in the IT industry.
Pleased and humbled by this latest recognition L4 Studio is ready and eager to deliver to the Asian market and global stage.
Read the full article here: https://beststartup.asia/94-top-southeast-asia-technical-support-companies-and-startups/
About L4 Studio – Leading Software Development Company
L4 Studio was established in 2018 to provide quality Software Outsourcing Services to leading companies worldwide.
Possessing a team of IT Talents who has extensive knowledge and expertise in this industry, L4 Studio is willing to accept all complex projects of domestic and foreign partners. We are entirely confident that we can support your business in creating the perfect product on the market.
With the desire to bring businesses technology solutions quickly, reasonably, and effectively. L4 Studio is oriented to become the leading outsourcing company in Vietnam and South East Asia.
Our Strengths:
– Over 4 years of experience
– Supporting more than 200+ clients
– Team of 50+ experienced devs
– Specializing in eCommerce development
Mainly our strengths are focusing on four primary industries: E-commerce, Healthcare, Education, and Retail, with collaborating experience with more than 50 top businesses in our area and around the world.
More than technology, we create a future.
About BestStartup.Asia 
Best Startup Asia is an online publication that helps promote Asian businesses and put them on the international stage. They primarily focus on businesses that show positive signs of growth, innovation, and management and excel in areas that have a beneficial impact on society.
Sources: Internet    
——————————
L4 STUDIO – LEADING SOFTWARE DEVELOPMENT COMPANY IN VIETNAM
Website: https://l4studio.net/
Email: hi@l4studio.net
Phone: (+84) 28 6675 6685
For more interesting blogs: https://l4studio.net/it-knowledge/
Follow us at: https://www.facebook.com/L4Studiovn/