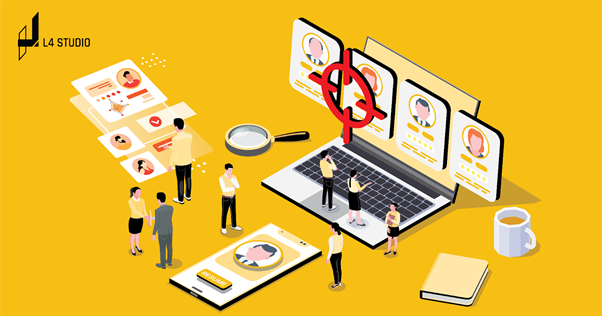 What are HRMS Domain and HRMS cloud solutions ?
As the sustainable economy becomes more and more famous, the importance of HR management also rises as well. With it came an increase in demand for specialized software. This is where a Human Resource Management System (HRMS) comes into play. If you're looking for an easier way to manage your business's administrative tasks, it might be worth giving HRMS a try. So what does an HRMS do, exactly? What are the HRMS domain and HRMS cloud solutions? Let's get right into this post to find your answer!
1. What Is The HRMS Domain? 
HRMS is an acronym for Human Resource Management System. The company can use this type of HR software to manage human resources in various aspects like payroll processing, employee benefits management, etc., through information technology-enabled processes.
An HRMS is an important tool in any company for improving productivity and efficiency. It automates manual tasks that are repetitive or time-consuming, freeing up the team's resources to focus on more strategic business issues.
The benefits don't stop there. Businesses with an automated human resource system will also free up some valuable employees. In other words, the company can shift its attention towards retention rates, culture, and other highly impactful aspects.
Even though HRMS systems have become the norm for human resource management, there are still many different options in the market. 
Some of these include HCM (Human Capital Management) and HRIS (Human Resource Information System) which offer varying features at different price points with an output tone-friendly or professional voice depending on what you're looking for in your company's next software package.
2. What are HRMS Cloud Solutions?
HRMS Cloud Solutions are an efficient way to manage Human Resources (HR) data in the cloud. It is a comprehensive suite of HR tools that allow organizations to streamline their HR processes, such as recruitment, onboarding, performance management, and employee engagement.
The HRMS Cloud Solutions provide a cost-effective and secure way for companies to store and manage their HR data. It also allows them to access their data from any device with an internet connection. The cloud solutions are designed to make it easier for HR departments to manage employee information, track performance metrics, and analyze workforce trends. Additionally, they can also be integrated with other business systems such as payrolls and accounting software for better efficiency.
3. Why Use HRMS Cloud Solutions?
Traditional HRMS, also known as on-premise HRMS, is a system that is installed on a business's local servers and managed by the IT department. The HRMS software is accessed through a local network and requires hardware and software maintenance by the IT department. Traditional HRMS systems store all data on a local server, which can be accessed only within the company's premises. Traditional HRMS solutions require a significant upfront investment for hardware, software, and implementation, making them expensive to maintain. 
On the other hand, cloud-based HRMS is a system that is hosted on the cloud and accessed through the internet. Cloud-based HRMS is managed by the software provider, eliminating the need for IT staff to maintain and update the software. Cloud-based HRMS is highly flexible and scalable, allowing businesses to adjust the system as per their business needs. With HRMS Cloud Solutions, all data is stored in the cloud, providing employees with real-time access to their data from anywhere with an internet connection. HRMS Cloud Solutions are cost-effective, with subscription-based pricing, making them more affordable for small and mid-sized businesses. 
Overall, while traditional HRMS solutions are reliable and secure, they lack the agility and flexibility provided by cloud-based HRMS solutions. Cloud-based HRMS provides businesses with real-time data access, cost-effectiveness, scalability, and accessibility, making it an ideal choice for modern-day businesses looking to optimize their HR processes.
4. Common Functions Of HRMS Domain 
The human resources department is responsible for tracking employee salaries, skills, and accomplishments. By implementing an RMS system into your business workflow, you can keep tabs on what employees have accomplished in order and ensure that these pieces of information do not fall through the cracks.
The HRMS is an extremely user-friendly system that allows for a great deal of flexibility in accessing and using information. For example, hiring will be handled through one module and performance evaluation in another if you're looking for new employees. 
A few key features are included in these HRMS modules:
Scheduling of employees

Recruitment and onboarding

Managing payroll

Employee self-service

Administration of rewards

Performance evaluation

Learning management

Analytics and well-informed decision making

Collecting, storing, and making use of employee data

Tracking of absenteeism by keeping attendance logs
5. What Are The Benefits Of The HRMS Domain?
Implementing software into your business is not a decision you take lightly, so let's discover the benefits of HR management below to make your decision:
5.1 Better Communication Across The Organization
Human resource is a crucial part of any organization, which has a big impact on the development and sustainability of a company. HRMS software that cuts down on tedious and repetitive tasks means employees can focus more of their time on people-oriented work.
5.2 Reduce Administrative Burden
HR team members are in charge of various tasks every day, every week, and every month, ranging from recruiting new employees to managing the company's performance evaluation process.
There is no denying that HR systems are a big part of any company's success. They can make sure employees stay on top of their game and save you some money in the process by automating workflows that would otherwise be time-consuming or need costly human intervention.
5.3 Lower Cost
The future of human resources is now in the palm of your hand. In today's business world, where efficiency matters most, a useful system like HRMS is absolutely an indispensable tool in a company. ​​
Thanks to its existence, you can be assured of saving money on costly administrative tasks by freeing up time for more important things like developing talent or marketing.
5.4 Ensure Consistency And Timely Data Analysis
HRMS software is a great way for businesses of all sizes to access and analyze employee information. Having the right data on your employees will enable you to make better decisions or improve future strategies.
6. Factors to Consider When Choosing HRMS Cloud Solutions
6.1 Business Needs
The first factor to consider when selecting HRMS cloud solutions is your business's specific HR requirements. It is essential to evaluate your HR processes, identify any gaps or areas that need improvement, and choose a cloud-based HRMS solution that can meet those needs. 
6.2 Features and Functionality
Look for a cloud-based HRMS solution that has features and functionality that are relevant to your business. Features such as employee data management, payroll and benefits administration, time and attendance management, and learning and development management are crucial to the smooth running of HR processes. 
6.3 Integration
Another critical factor to consider when choosing HRMS cloud solutions is its integration capabilities. The solution you choose should integrate seamlessly with other business applications and software, such as accounting and finance systems. 
6.4 Scalability 
HRMS Cloud Solutions should be scalable, meaning that it can grow with your business. As your business expands, your HR needs will change, and your HRMS solution should be able to accommodate those changes. 
6.5 Data Security
Data security is a crucial factor to consider when selecting HRMS Cloud Solutions. The solution you choose should have robust security measures in place, such as data encryption, multi-factor authentication, and regular backups, to ensure that your employee data is protected. 
6.6 User Experience 
The HRMS cloud solution you choose should be user-friendly, with an intuitive interface that is easy to use. The solution should be accessible from any device, making it easy for employees to access their data on the go. 
6.7 Vendor Reputation and Support 
Finally, consider the vendor's reputation and support when selecting HRMS cloud solutions. Choose a vendor with a good reputation for providing high-quality support, ongoing updates and maintenance, and a commitment to customer satisfaction.
Final Thoughts
In general, the HRMS domain is one of the fastest-growing fields in technology. It gives us access to everything we need for human resources management, hiring and payroll processing, benefits administration, timekeeping data collection, scheduling tools – even onboarding new employees or contractors.
With the "what is HRMS domain and HRMS cloud solutions" article, we hope to provide you with a better understanding of HRMS. If you have any questions or want to know how we can work together to find the HRMS cloud solutions for your business, please don't hesitate to reach out!