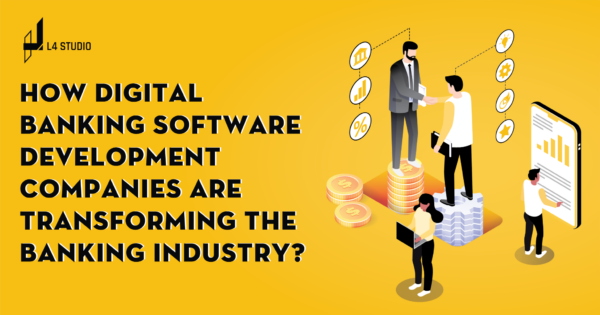 How are digital banking software development services transform banking?
Consumer demand for digital banking services has prompted financial institutions to make several technological advancements. But not many organizations can have their own IT room for the transformation process. That's why digital banking software development services have become a new trend in IT services.
1. What is Digital Transformation in Banking?
Banks of all sizes are scrambling to adopt new technologies and services with the help of digital banking software development teams. But, exactly, what does "digital transformation" in banking imply? The shift to offering online and digital services, as well as the massive number of backend changes required to support this transformation, is largely what digital transformation in banking entails.
In sorts, here're some examples of digital transformation:
Blockchain Technology

Using Artificial Intelligence (AI)

Customer Data Collection, Management & Analysis
On the other hand, banking digital transformation enables you to create a more cohesive and personalized digital customer journey. Digital banking software development can create a digital customer journey that entails integrating everything into a single online platform so that the customer is handled using the same tools. Sometimes by the same people, and with the same information throughout the process. Changing how teams are organized, integrating technical people into sales teams, and possibly merging marketing and retail into the same team can all help a lot in this situation.
2. What do you need to keep in mind during the digital transformation process?
While there are many aspects of digital transformation in the banking industry, one of the most important is adaptability and readiness to change. Banks are frequently stymied by security, legislation, and stringent frameworks designed to safeguard customer data and privacy (Digital banking software development can solve that issue). Simultaneously, in terms of growth and customer acquisition, new digital-native banking solutions and money apps are outpacing traditional banking. Adapting policies to meet changing consumer demand, quickly adapting to new technologies, and responding the market changes are critical to digital banking transformation.
3. Which factors drive the digital transformation in banking?
Everything happens for a reason, but what is the reason for this transformation in the banking financial world?
3.1 Chasing customer satisfaction
Customers today have lots of choices. So, they want consistent experiences across all channels, and highly personalized products and services that cater to their unique lifestyles, preferences, and goals. Not only that, they need strong security, business transparency, and most importantly competitive pricing. To achieve customer-centricity as an enterprise goal, digital banking software development must shift away from the traditional inward focus ("What is best for the bank?") and instead focus on customer wants and needs. For example, an Asian bank that serves some of the world's fastest-growing mobile markets recognized an opportunity to build a bank that was truly digital from the ground up.
3.2 Make the most of the potential of minimum viable products (MVPs)
According to a recent PwC report, while 61% of respondents from financial services and FinTech firms believe they are good at generating ideas, only 41% believe they are good at developing MVPs. The use of the aforementioned microservices and APIs can assist banks in rolling out much-needed MVPs across digital channels while avoiding obsolescence. One global telecommunications company was able to overcome the same challenges that banks face with MVPs – inflexible legacy systems and a stringent regulatory environment – and achieve a 66 percent reduction in cycle time from idea to feature production release.
3.3 Digital banking software development can upskill your employees
According to the World Economic Forum's 2018 Future of Jobs Report, 56 percent of the workforce in the financial services industry will need new skills, and 29 percent will be working in new roles by 2022. As automation replaces routine tasks, businesses must deal with "automation anxiety." This can be accomplished by organizing hackathons and "ideations," instilling entrepreneurial thinking in the workforce, investing in cross-functional teams, and reskilling employees to foster a learning culture, which will be critical for banks to thrive.
Summary
The ability to innovate, adapt, and respond quickly nowadays is a must for a financial organization to survive and thrive in the competitive market. Yes, not every organization can do it on its own, consider choosing digital banking software development as a great solution.
Sources: Internet    
——————————-
L4 STUDIO – LEADING SOFTWARE DEVELOPMENT COMPANY IN VIETNAM
Website: https://l4studio.net/
Email: hi@l4studio.net
Phone: (+84) 28 6675 6685
Our Digital Transformation Services: https://l4studio.net/digital-transformation-services/
For more interesting blogs: https://l4studio.net/it-knowledge/
Follow us at: https://www.facebook.com/L4Studiovn/
Read more: WHICH IS A PUBLISHING SOFTWARE DEVELOPMENT SERVICES IN HO CHI MINH CITY?